| | |
| --- | --- |
| STADIO - RESTAURANT WITH ATHRIUM - BUCURESTI (MUNTENIA) | ‹ BACK |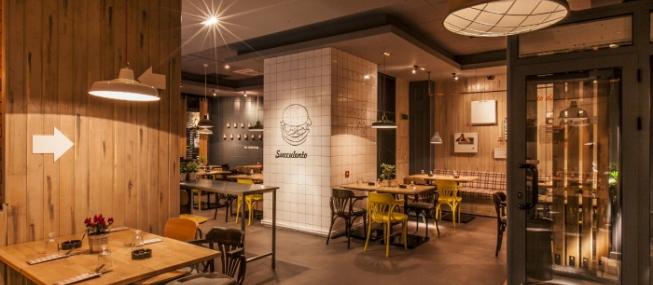 STADIO - RESTAURANT WITH ATHRIUM
Address: Bucharest, 11 Ion Campineanu Street, Union Building
Phone: +4 0731 333 311
Email: contact@stadio.ro
Website: www.stadio.ro
GPS coordinates: 44.437350, 26.099115
Stadio is designed as a smart-casual restaurant with a simple menu, built in the Italian style, but inspired by Romanians' preferences. For instance the list includes beef tartar appetizers, salad, and Romanian baked eggplant. On the same lines, Stadio offers a "tender" beef burger with tzatziki sauce and reinterprets the "classic" pork neck following an American recipe.

The specific taste of each dish is given by quality ingredients, such as Pecorino cheese or our homemade pizza sauce. The pasta are homemade, and, when you least expect it, you will find pomegranate berry and caramel. Everything is packed up in a special format, from bruschetta lying on a narrow wooden countertop to eggs served in the pan they were cooked in.

The relaxed design that makes us think of English local restaurants is like a 1960s Italian restaurant invaded by elements of industrial kitchens. The decor "borrows" techniques from the movie world: the walls are covered in hand-made panels, with a hint of vintage; the entire space is decorated with spotlights, reflectors and lamps of different colors and shapes.
Daily menu - from Monday to Friday (12.00 – 15.00): you can choose from 72 Starter + Main course combinations.
- on Saturday and Sunday (10.00 - 14.00): we have a special menu for breakfast.
Program: Monday - 12.00 – 24.00 and from Tuesday to Sunday - 10.00 – 24.00.
Wifi: Yes
Payment by card: Yes
Prices to the services offered by restaurants, hotels and specialty stores listed on the website may not be accurate and may be altered at any time.

Muntenia wineries