| | |
| --- | --- |
| RASOVA WINERY - DOBROGEA | ‹ BACK |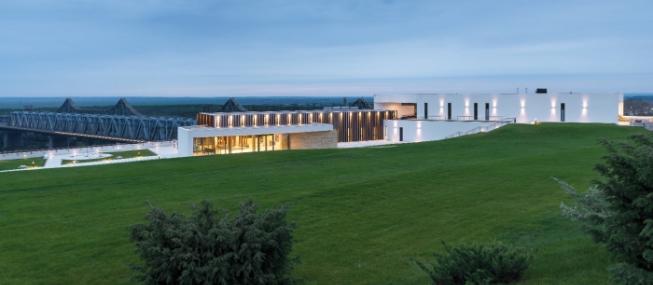 Crama Rasova – one of the newest and most modern wine cellars in Romania.
Vifor Hill, a place with an outstanding display, pouring its crest in the sun reflected by the sea and stung by the Danubian breeze at dusk.
Thus, Rasova wine cellar, an investment of over 5mil euro outlooks the bridge built by Anghel Saligny during the reign of Carol I (1890-1895). The wine cellar's architecture was realized in collaboration with "Igloo", one of the most known design & architecture studio in Romania. The cellar's design is not randomly chosen as it blends in with the natural dynamic of the environment "like a pile of rocks which rises from the earth", as the architect Bruno Andresoiu said.
Its name comes from the nearby village, Sacidava, a very old place where one can find the roman castrum.
Our Wines stretch over 50 hectares of young plantation found in different stages of development. One can find a variety of wines such as
Chardonnay, Pinot Gris, Sauvignon Blanc, Tamaioasa Romaneasca, Muscat Ottonel (white wines) and Pinot Noir, Carbenet Sauvignon, Feteasca Neagra, Syrah and Merlot (red wines).

Every year, the grapes, carefully harvested, are deposited in our wine cellar, which has a capacity of over 400.000L.
The Sun is different here in Dobrogea, at the Murfatlar Vineyard, especially at Rasova. It shines longer here than in any other parts of the country, over 2100 hours annually. Thus, the sun represents our symbol.
This wonderful place is being rendered profitable with the help of Italian winemakers, through our collection wines Rasova and Tortuga.
Rasova Alb (White Rasova)
A blend from Sauvignon Blanc, Chardonnay and Pinot Gris with a clear pale lemon color. Aromas of white flowers, stone fruits and citrus. Dry wine with balanced acidity, good minerality and citric hints, herbaceous with an armonious finish.
Rasova Sauvignon Blanc
Pale lemon color with clear intensity aromas of grapefruit,passionfruit, elderflower and melon. Dry wine with good acidity and minerality, fresh body, finish with flavors of apricot and lime.
Rasova Pinot Gris
Pale lemon color with intense aromas of ripe peach, pear and white flowers. Dry wine with good acidity, minerality,salty,long finish.Elegant,vertical and very versatile.
Rasova Chardonnay
Pale lemon color with characteristic aromas of white flowers, peach and pineapple. Dry fresh wine in modern style,very good balance between body and acidity and a finish of lime and grapefruit.
Rasova Rose – Pinot Noir & Feteasca Neagra
Clear with pale ancient rose color and elegant aromas of rose grapefruit, strawberry and raspberry. Dry wine, good acidity, fresh, flavors of pomegranate and citric notes. A perfect rose for the hot summer days and not only.
Rasova Cabernet Sauvignon
Ruby with purple reflexions and aromas of blackberry,blueberry, blackcurrant and tobacco. Dry wine with sweet silky tannins, balanced body,softly modern oak nuances It opens with flavors of sour cherry, blackcurrant and it has a finish with hints of vanilla.
Tortuga Alb (White Tortuga)
A great blend of Chardonnay and Sauvignon Blanc oaked in selected barriques for 12 months. Gold color with a complex nose of ripe yellow fruits (pear, melon),flinty, and sweet spices . Rich wine with elegant balance body-acidity, long length of vanilla and good aging potential.
Tortuga Rosu (Red Tortuga)
A blend of Cabernet Sauvignon and Feteasca Neagra oaked in French barriques for 12 months. Deep ruby color with a complex nose of black fruits (black cherry, blackcurrant), smoke and black pepper. Dry wine with velvety tannins, deep body, flavors of blackcurrant and a long finish of black cherry and dark chocolate. Good aging potential.
We kindly invite you to visit Crama Rasova which can be easily reached at just 5 minutes from the Sun Highway from Cernavoda's knot road.


Winery visits - Wine tastings - Restaurant
| | | | |
| --- | --- | --- | --- |
| Winery tour, wine tasting - 3 wines, cheese / 30 minutes / minimum 4 people | 60.0 lei / | | (8.0 euro) |
| Winery tour, wine tasting - 6 wines, cheese and local salami / 45 minutes / minimum 4 people | 120.0 lei / | | (16.0 euro) |
Winery visits contact:

E-mail: salut@cramarasova.ro; office@cramarasova.ro

Phone: +40 720 737 777
Booking in advance with minimum one week prior.
Groups between four and 90 people.
Upon request, for groups of at least 20 people, gourmet tastings, food and wine pairing to guarantee a unique experience for curious explorers can be organized. For groups of over 20 people, the presentation of the technological process is done in several steps.
Facilitate: restaurant, parking cars, terraces.
Payment by cash and card.


Prices include VAT.
Prices to the services offered by wineries, hotels and specialty stores listed on the website may not be accurate and may be altered at any time.