USEFUL INFORMATION
2014 – the birth of Orange wine in Romania
What is Orange-wine?
Today the term "Orange-wine" describes an archaic, ancient way of vinification. Here mainly white grapes are partial or completely de-stemmed respectively crushed and then fermented on their skins. This period can include days or even months. To put it briefly, "Orange-wine" means to vinify white varieties as red ones. Likewise a longer contact with the skins can lead to a more pronounced color of the wine. Therefor "Orange". In former times this approach has been a necessary evil due to a lack of proper technology and knowledge. So why to produce an "Orange-wine" in our days? The answer is quite simple. Diversity and renunciation of the mainstream! Here one can experience new and different levels of aromas and tastes while exploring yet unknown interpretations of known varieties and origins. Experienced oenologists are able to obtain with this method very complex, multilayered wines with a completely different aroma profiles and distinctive characters. Often "Orange-wine" is mixed up or equated with "vin naturel". "Vin naturel" means for most of the extremists (producers and consumers alike) a wine, obtained without using modern technology like stainless steel or filters and no added additives like selected yeasts, enzymes or sulfur. Although red wine resists this kind of treatment better than white wine, nature cannot be tricked or denied. As a result, most of these, often tremendous expensive wines look, smell and taste like an infusion of the remains of a vegetable market and this has nothing to do with the idea of a seriously produced "Orange-wine".
How is it made Orange Wine – Bauer Winery?
"For our O.R.A.N.G.E. we select only absolute healthy, perfectly ripe grapes from an over 40 years old plantation (Rozopol) of Sauvignonasse. We use this low-aromatic variety because of its perfect capability to express its origin and terroir. During the harvest we act with the same meticulousness like for our red wines because any kind of bad influence of imperfect fruit or rot would be potentiated by the extended fermentation on skin. The clusters are only destemmed without being crushed and fermentation starts in stainless steel tanks with indigenous yeast strains of our cellar. During the fermentation we do up to 3 times a day a manual "Pigeage" to keep as much skin contact as possible and to avoid mechanical extraction of bitter tannins. We don't use temperature control here to ease the start of the desired malolactic fermentation. Our 2014 vintage remained 12 weeks on skins before pressing. Afterwards the wine aged without further treatments or racking on the full lees for 14 months in used 300 liters barrels of Romanian wood. Before bottling the wine was slightly filtered and stabilized with a very moderate sulfur dioxide treatment (similar to our reds)." Oliver Bauer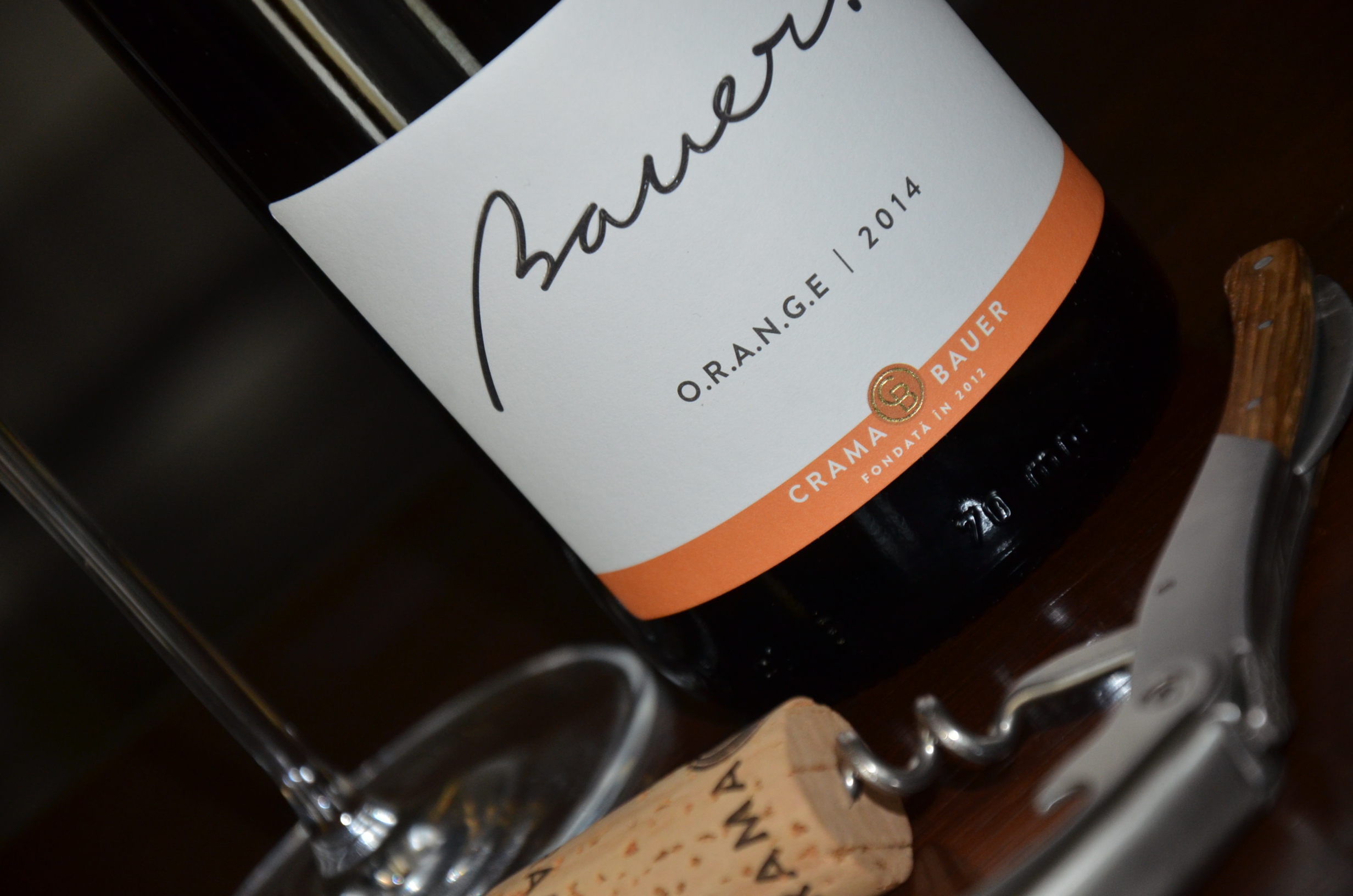 Bauer O.R.A.N.G.E. 2014, Limited Edition 1600 Bottles
Grape: Sauvignonasse
Harvest: 2014
12,3%
2,1 g/l residual sugar

The wine shows a bright, light golden color and a complex, multi layered nose of yellow fruit with an exotic touch paired with savory scents of fresh bread crust, honey combs and caramel. Due to the extended time on skin, the wine reveals also very ethereal scents of green and brown spices. At the palate, the wine appears well balanced with a medium body, structured by fine grained tannins and sustained until its soft ethereal finish by its creamy, yet solid acidity. The wine is still young therefor we recommend aeration before enjoying it.
Don't chill it too much (10 – 12 degrees) and use preferably big Burgundy glasses.
Perfect food matches are sea fruits, crustacea and raw fish dishes but also veal and poultry like turkey are interesting options.
Available in Wine shops and restaurants starting with 31.03.2016.