USEFUL INFORMATION
How much wine have we consumed in 2016?
Average wine consumption per capita was lower by 1 liter in 2016 compared to 2015, as shown in the latest INS statistical work "Beverage consumption in 2016", elaborated according to the methodology of the Eurostat. This decrease was due to the decrease in production and import. In contrast, average beer consumption, distilled alcoholic beverages and non-alcoholic beverages per capita increased.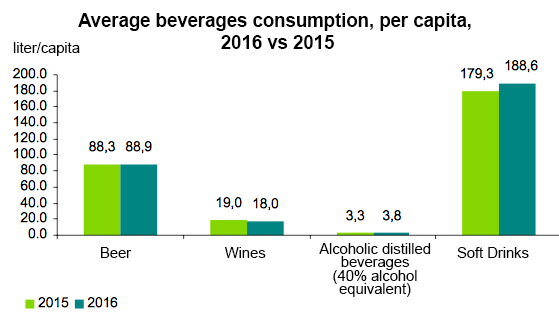 The wines considered in the elaboration of the statistical work refer to: grape wines, regardless of variety and quality (wine with a registered designation of origin, wine with geographical indications, table wine, etc.), sparkling and sparkling wines, partial grape musts fermented, aromatised wines, etc.
Total wine resources decreased, compared to the previous year, by 274.9 thousand hl. The decrease was due to the decrease of production and imports by 9.2% and 4.3%, respectively. The initial wine inventory increased by 3.3% (84.1 thousand hl) as compared to the previous year.
The share of wine production in total resources decreased by 3.0 percentage points, as against the previous year, and the share of imports remained constant. Inventory of previous year's stock in the formation of total wine resources increased by 3.0 percentage points.
However, for 2017, the OIV (International Organization of Vigne et du Vin) estimates an increase in local wine production compared to last year: 5.3 mhl (2017) vs. 3.3 mhl (2016).