PEOPLE
Interview with Gabi Lăcureanu, Licorna Winehouse oenologist
More than a century ago, Nicolae and Elena Nicolau decided to build a winery in the commune and they had an especially interesting reason for their decision. A few nights before, Nicolae had dreamt that Constantin Brâncoveanu said to him "I demand that you raise a winery where wine shall be as dark as the rooster I am offering up!". Even today a keen eye can see at the entrance the stone that says that in 1909 Nicolae and Elena Nicolau's winery was set up.
After a period of time when history had been a relentless master, the project was swept aside, until 2013 when Virgil Harabagiu, a businessman with experience in HoReCa and tourism, unlocked the gates to the winery and invested in a wine centre and some vineyards which were located in the same area as they were a century ago. The project was called Licorna Winehouse.
A few years earlier, a young wine maker from Iasi, Dealu Mare, managed to produce probably the best Fetească Neagră from Romania, as was appreciated by connoisseurs. Known for his Feteasca Neagra and other famous wines, such as Red and White Golem - both produced at the Basilescu Winery - Gabi Lăcureanu soon becomes one of the prominent names in the wine industry in Romania. In 2013, Lăcureanu leaves the winery that had made him famous to embark upon new projects, amongst which Licorna Winehouse.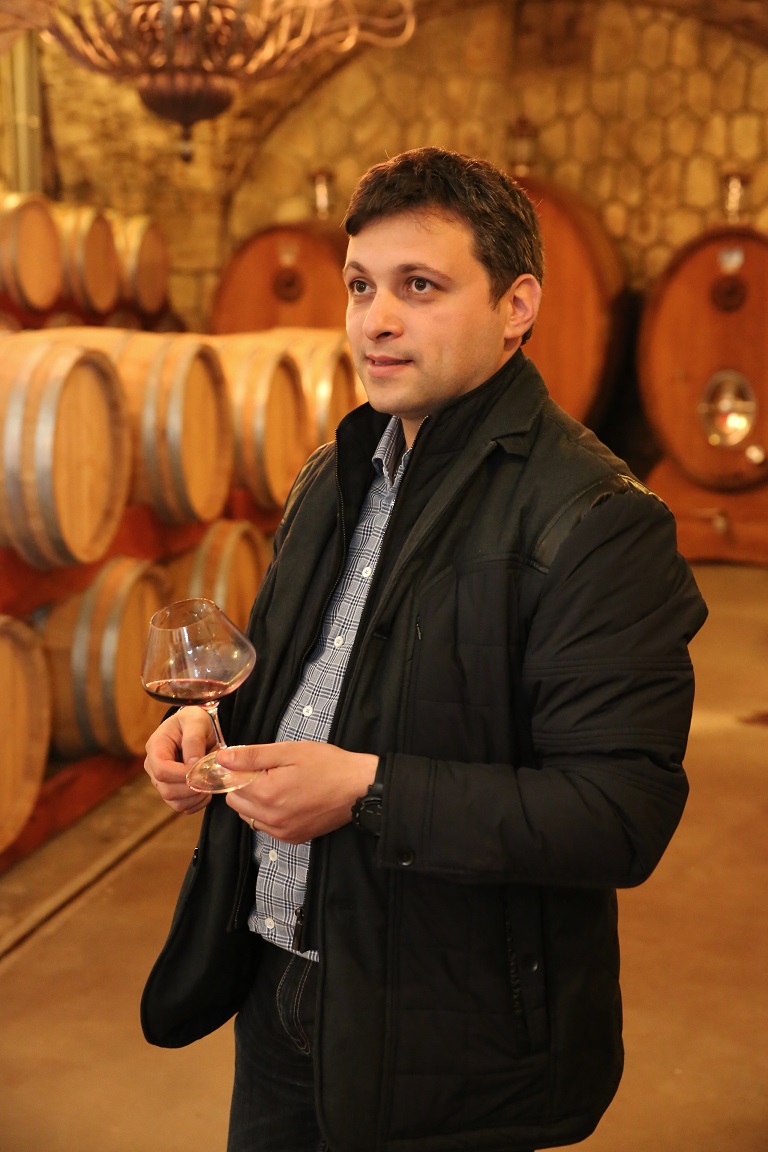 Gabi, how did it all begin?
Gabi Lăcureanu: It was not something I had planned. I would say that it was the profession that chose me and not the other way around. The year I had the university admissions exams I opted for Polytechnic University and the Faculty of Horticulture. I was admitted to both, but I chose horticulture as the idea of working with nature smiled upon me, despite the fact that my former high-school mates were laughing at my choice. It is true that I was worried, as any graduate would be, but I had made a choice and I don't like to welsh on a promise.
How and when did you fall in love with wine?
G.L: I first entered the world of wine at university, when I was doing an internship at the Oenology Research Centre. Academician Professor Valeriu D. Cotea, the director, is the one who, by telling me so many interesting stories, infused me with a love of wine and winemaking. Then, his son, Prof. Dr. Valeriu V. Cotea, guided me scientifically on the way to oenology. Thus, by the time I finished university I had already realised that I wanted to build a career in winemaking. That is when the opportunity of doing training at Unicom Production, known for the Davino wines, arose. It was there that I spoke to the practitioners in this field for the first time. Afterwards I left for France, Burgundy region, for a Master's degree in oenology.
How did the hiring process at Davino go?
G.L: It was really good.
Even though Davino is known as one of the top wineries producing premium wines in Romania, I know you did not stay too long as an employee there. Why?
G.L: Yes, that's true. I wanted to make wines by myself, which I couldn't do there at the time. Thus, I decided one day that I should end my collaboration with Unicom Production and rechanneled my energy towards finishing my PhD in Iasi.
What caused you to stray from the path and go to Urlați?
G.L: I left for Iași and got to Urlați. I was urged by the possibility of making my own wines in a winemaking centre equipped with all the necessary features. My dream had finally become reality, and that was only the beginning of probably the hardest and yet the most beautiful period of my career.
What we don't know about Gabi Lăcureanu:
-he used to be part of the Terra theatre troupe.
-he used to be the leader of the band "Dinamic din Hîrlău"
-he is the one who started the Romanian Association of Oenology
-he is 31 years old
-he misses his childhood years because "he used to think the world was different"
You were the star winemaker at Basilescu Winery for 5 years. That is the winery where you got your reputation as an expert in Fetească Neagră. Why did you leave?
G.L: Oh, I did it because in the last year the owner of the winery and I started to have different views on wine (he smiles).
Immediately after you left, you were recruited by Intervitt, Ioan Nicolae's Winery at Zimnicea. You've made quite a stir in the wine industry. You are said to have been the best paid oenologist in the country. And today, here you are again at Dealu Mare. How and why did you make that move?
G.L: I was called to Zimnicea to be a winemaker and I was accepted into the team after no more than 5 minutes. As far as the rumor is concerned, it may be true. I am delighted to have the opportunity of making full use of my experience, here at this well-known winery. I would also like to destroy the myth about it being a large cellar with mediocre wines.
Zimnicea lies rather far from Ploiești, where I had recently established a family. Thus, after a while, I decided to be only a winemaking consultant at Intervitt and I returned to Dealu Mare, at Licorna Winehouse.
How is Licorna Winehouse any different from other wineries in Romania?
G.L: It is a Boutique winery, and it is located in a suitable area with a high winemaking potential. I believe that paying close attention to details is what will eventually make all the difference and, of course, the people I will be working with – they are all professionals in their field of expertise.
How will your future wines be different from the wines you've made so far?
G.L: My wines follow the footprint of the area, no matter where the wine is made. I should probably tell you how I developed my sense of taste. When I was a teenager I liked to cook for my mom because I knew it would make her happy. When I'd prepared several meals I developed my sense of taste as well as a taste for bringing out the complexity and balance of different flavours. I would always try to get the best flavour in every meal I cooked. It's the same with wines. Every year I try to get the best of each variety and I do my best not to tamper with the soul of the place or the characteristics of the grape variety. Perhaps the wines will continue to be different, and hopefully more complex, and that will be due to my broad experience.
What do you expect from wine consumers who set foot in your winery?
G.L: First and foremost, I want them to get a clear idea of what a good wine is and to be able to realise its potential. I would also like it if this beautiful experience remained forever in their memories.
Short questionnaire for Gabi Lăcureanu:
Favourite variety: blends, because they have the complete formula and represent a process of oenologic creation;
Favourite winemaking area: Dealu Mare, but for the most part Romanian areas;
Key words for wine: the design of communication;
Favourite part of your career: the interaction with nature and the stages of wine maturation;
Romanian wines are... on trend.
Romanian wine industry is... fast-growing.
Romanian wine consumers... can be trained/refined.
CrameRomania.ro is... a humane project, an exceptional initiative coming from people who are passionate about wine. It is a project that I will promote and support.
With 22 hectares of fruit-bearing vineyards, Licorna Winehouse is one of the most promising new wineries in Romania. For now, the winery brings out 2 wine collections: Licorna and Serafim. The artistic labels, designed by George Moisescu, along with the winemaker Gabi Lăcureanu's talent and technology combined with the traditional, make Licorna Winehouse a winery destined for success.
TEXT: Alexandra Hash ▪ ▪ ▪  PHOTO: Alina Iancu