USEFUL INFORMATION
Petillant is the French word that has been traditionally used to describe fizzy, slightly effervescent wines other than Champagne. Petillant - or frizzante - in wine talk alludes to a "semi-sparkling" wine with just a bit of carbonation in solution, not enough to make the bottle open with a loud pop, but just sufficient to give the wine a pleasant "prickly" or "crackling" character that can add a delicious note of refreshment to what would likely be an otherwise simple white.
Technologically, the natural fermentation of must into wine is stopped before is completely finished, without the addition of secondary yeasts or sugars. (This is in contrast to méthode champenoise, the method used to make Champagne and other more-common sparkling wines, in which a finished wine undergoes a secondary fermentation in the bottle with additional yeasts and sugars). When the fermentation is almost completed, the tank's valves are closed, and the CO2 is trapped in the wine. The wine kept under pressure is bottled under pressure to preserve the carbon dioxide content i.e. the fine pearling bubbles of it. This method gives extremely fruity, lightly bubbling wines, with 1 - 2,5 bars pressure in bottle, with a pleasant residual sugar and low alcohol content.
In Romania it's produced by Carastelec Winery in Crisana area from feteasca regala and pinot noir.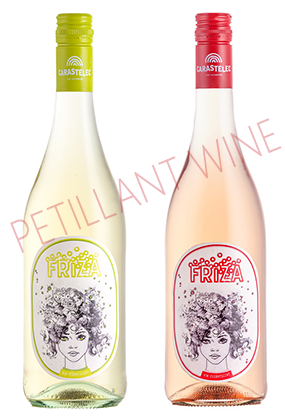 Friza White ine floral and autumn-fruity elements underscore this lively effervescent wine. Honeyed linden flower and wild flower notes, pear and quince flavors highlight this lightly bubbling white made from the local Feteasca Regala variety. The exotic fruit and mineral hints on the finish give additional buoyancy to this off-dry petillant. Great as an aperitif, but it can be drank with spicy food or not so sweet desserts.
Friza Rosé, tangy and sharply focused on entry, this petillant wine made from Pinot Noir grapes, offering scents of berries, wild strawberries, some floral notes and dusty mineral flavors that gain richness with air while retaining vivacity. The elegant and delicate mousse is very well integrated and emphasizes the freshness and fruitiness of the wine. It has a touch of sweetness and that makes the wine even friendlier. Great as an aperitif, but because of its structure, it can be drank with meal like fish, white poultry and salads.