USEFUL INFORMATION
THE BASISCS OF WINE TASTING
- you'll need a white surface to examine the colour;
- you will be unpopular if you smoke, wear parfume or have a strong odor at formal tastings;
- Whatever the occasion, it will be much easier to taste wine without being bothered by odors, though, in certain social events you may as well sacrifice the brief flavour of a Pinot Gris for the exotic scent of a perfume or the pleasure of a cigarette.
Wine Tasting Techniques (summary)

Visual examination: 
First look at the wine through the glass. At a tasting, watch only if the wine is clear or non-sparkling. You can look at its colour or shade by tilting the glass at 45° (in front of a white background - a tablecloth or a plate). Examine the colour intensity by looking at the glass from the top. Even specialists can talk for hours about the different colours and shades of wines. Visual examination actually takes only a few seconds. Most good wines and especially mature red ones, are interesting, shiny, with bright colour shades that open outward. The older the wine, the greater the difference between the colour at the center and the almost watery one on the sides.

Smell:
Take the glass to your nose and smell. The steams will be more intense if you spin the glass a little before you smell the wine. Such volatile elements that make up the vapours are released to the surface of the wine. By rotation, maximize the amount of wine that comes in contact with air and help volatile aromatic compounds to reach the surface. You can spin the glass either on the table or in the air.

First and foremost, the nose.
Move your nostrils from one side of the glass to the other- preferably with the glass tilted toward you at 45 ° to maximize the surface of the, the impact. Thus you can enjoy the vapours collected inside. It is said that you should close your eyes and focus while you do that, even if you seem a bit ridiculous.

First sip:
Take a generous sip. You will feel on your tongue and in your mouth the sweetness, acidity, the level of tannins and body of the wine. Also, the vapours arriving via retro-nasal passage will confirm the flavour. Keep the wine in the mouth for a while, before swallowing or spitting. Opening your lips and pulling a little air and then sipping some wine will contribute to the vaporization of volatile elements thus maximizing the impact of wine.

Evaluation: Evaluate what you feel in your mouth after you have swallowed or spit, as well as the persistence of aromas.

:)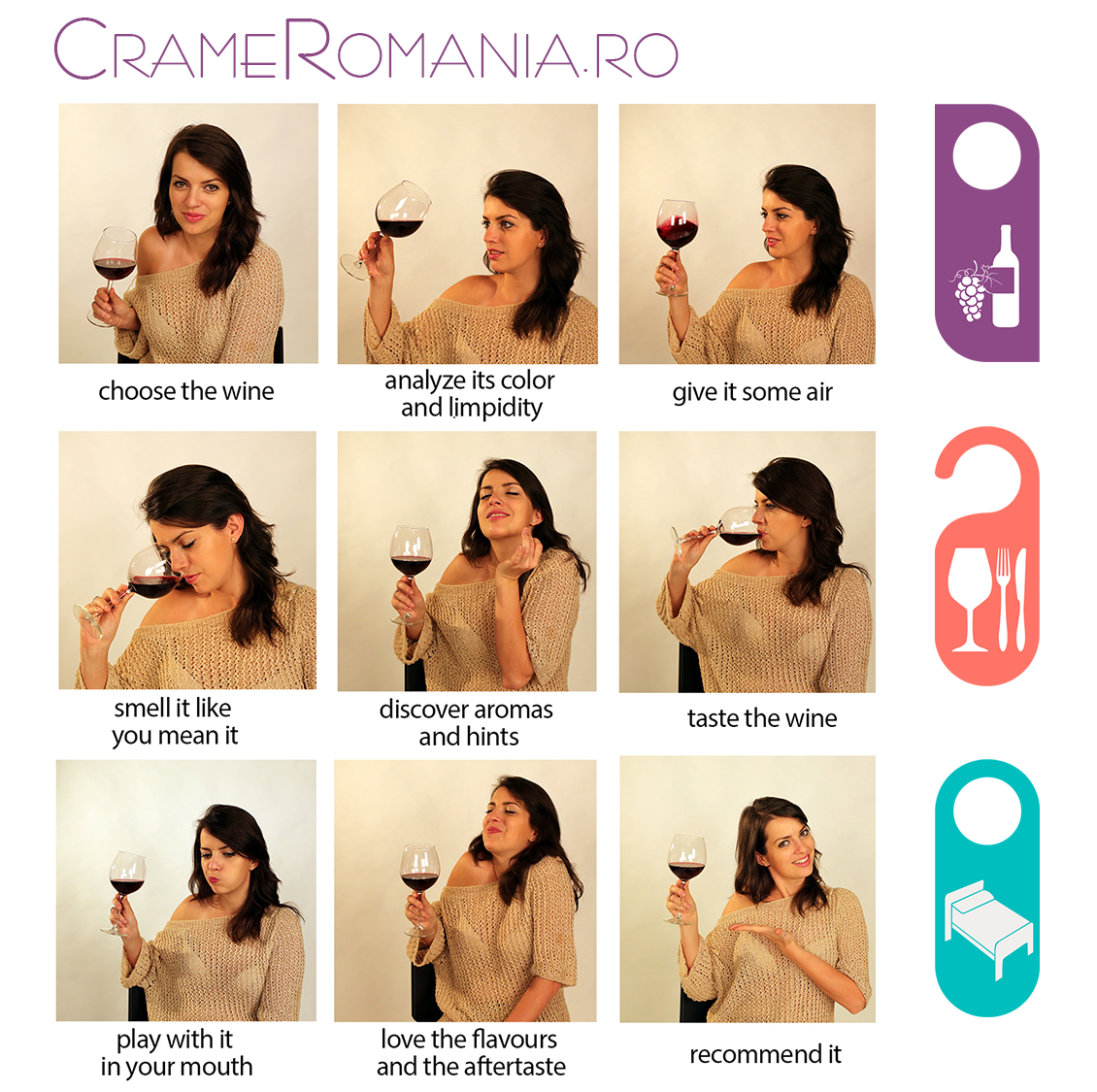 :(